Elle et Lui

Première: 2009

Producer

www.kadam-kadam.com

Location

Centre le Cercle de l'Histoire, Lomé Agoé (Togo) 30 may 2009

Persons

text: Vagba Obou de Sales / actors & musicians: students of e-STAL, members of Kadam-Kadam



A selection of students of e-STAL (drama school in Lomé, Rodrigue Norman - artistic director) and members from the theatre group Kadam-Kadam (Luc Alanda Koubidina - artistic director) participated in this short music-theatre production. The text was taken from a new play by Vagba Obou de Sales (Côte d' Ivoire) and combined with a selection of African proverbs set to music by the musicians and actors themselves. The purpose of this production was to perform for an audience that has no previous experience of life stage performances. Kadam-Kadam has established itself in the vast neighbourhood of Agoé, to the north of Lomé, a suburb where one can still observe the remains of hamlets that have been integrated into the fabric of the suburb. It is quite remote from the city centre. Kadam-Kadam has set out to establish a fruitful relationship with this suburb, a unique kind of initiative which Javier wants to support wholeheartedly. The reception of the performance was exactly what Javier hoped it would be: the audience expressed their opinions and sentiments honestly and with great respect for the performers.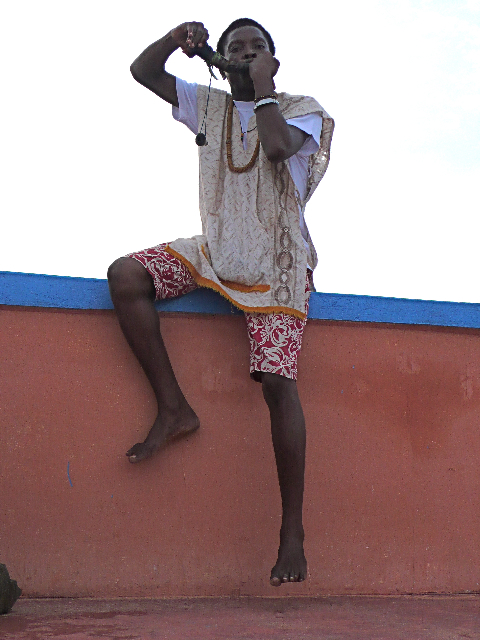 Winiga Koutema, playing the traditional horn on the terrace of Le Cercle de L' Histoire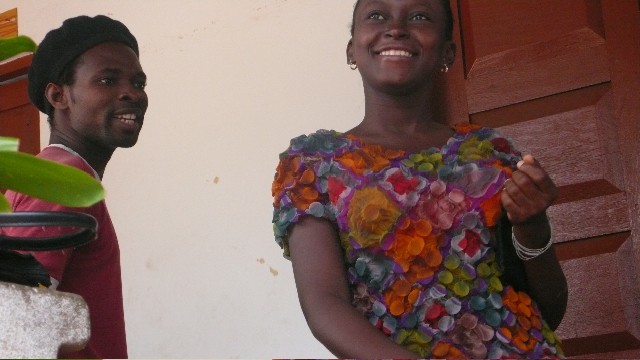 Lucky Teteh, Lui and Nadège Wilson, Elle